In today's fast-paced, digitally-driven business environment, the ability to adapt, innovate, and streamline is critical. Microsoft's Power Platform emerges as a comprehensive suite, rich in transformative potential to redefine traditional business operations. Through this article, we aim to shed light on the multifaceted capabilities of the Power Platform. Moreover, we'll explore how its inherent potential can significantly influence the trajectory of modern businesses.
Delving into Microsoft's Power Platform Potential:
The Microsoft Power Platform stands as a robust ecosystem, encompassing four pivotal components:
1. Power Apps
Starting with No-Code App Development:
Power Apps empowers users, allowing them to design and develop custom business applications without extensive coding.
The Templates and Drag-and-Drop Interface
offers a user-centric approach, enriched with templates, making app creation intuitive.
2. Bi
When it comes to Data Visualization
Power BI provides the tools for transforming data into compelling visuals, promoting data-driven decision-making. Additionally, it lets users craft interactive dashboards that offer immediate insights.
3. Automate
For Workflow Automation:
Power Automate offers automation of repetitive tasks and workflows, ensuring efficiency. Furthermore, its integration capabilities allow for seamless amalgamation of various apps and services, creating cohesive processes.
4.Virtual Agents
Discussing AI Chatbots:
Power Virtual Agents present a platform for crafting AI-driven chatbots, enhancing customer interactions. On top of that, the No-Code Bot Building feature simplifies the creation process with an intuitive interface.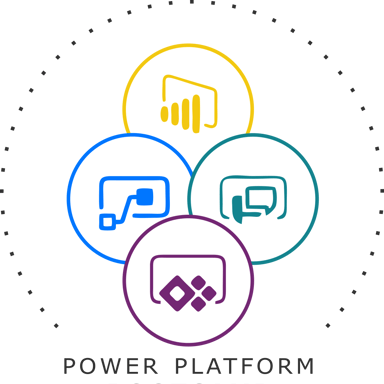 Why Harness the Potential of Microsoft's Power Platform?
The Microsoft Power Platform, in essence, presents compelling reasons for businesses to integrate it. These range from accessibility, where it democratizes app development, to cost-efficiency, slashing development expenses. Additionally, the platform's seamless integration with Microsoft utilities like Office 365 enhances its appeal. Furthermore, its scalability ensures adaptability to both small and large businesses. Lastly, its customization features allow businesses to create niche solutions.
Accessibility:
Remarkably, it democratizes app development and automation, inviting contributions from a diverse workforce.
Cost-Efficiency
By reducing the dependency on hefty development resources, it curtails development expenses and hastens product delivery.
Integration:
Significantly, the Power Platform integrates effortlessly with other Microsoft utilities like Office 365 and Dynamics 365, promoting a cohesive ecosystem.
Scalability
Catering to a spectrum of business sizes, it guarantees scalability in tandem with organizational growth.
Customization
Businesses can now craft solutions that mirror their specific processes and needs, thus securing a competitive advantage.
Highlighting the Power Platform's Impact Across Industries: 
Notably, the Power Platform extends its reach beyond theory; it's making waves across diverse sectors:
Manufacturing:
Streamline production processes, monitor equipment performance, and ensure timely maintenance with custom apps and automated workflows.
Healthcare
Enhance patient care by creating apps for appointment scheduling, patient records, and monitoring vital signs.
Sales and Marketing:
Generate actionable insights from sales data, automate lead nurturing, and improve customer engagement through chatbots.
Finance
Optimize financial reporting with interactive dashboards, automate invoice processing, and improve compliance.
Embracing Microsoft's Power Platform:
Reflecting on its capabilities, the Microsoft Power Platform stands out in the business toolset. This platform not only offers conventional tools but reshapes business perspectives on innovation. By harnessing its potential, businesses open doors to unparalleled efficiency and growth. For those ready to pivot, the future promises transformative opportunities.
Have additional inquiries? Our team is here to assist. Please don't hesitate to reach out!